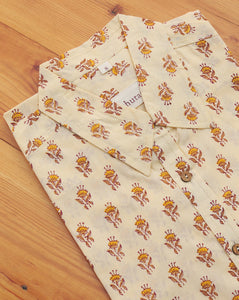 Material:
100% Cotton
Fit:
Comfort
Craft:
Hand Block Printing
Care:
- Hand Wash Separately in cold water with mild/liquid detergents recommended.
- Do not bleach. Do not wring. Dry in shade
Disclaimer:
- Every product has it's own unique print.
- Colours on the actual product may vary slightly.
- The design & pattern in hand block printed products aren't always accurate, the color might be slightly out of the block or the pattern could be a bit asymmetric. Well, that's the beauty of hand block printed products.
Need help with this product?
Call or WhatsApp us
+919520307333/ +919520319444
Mon - Sat | 9 am to 6 pm (IST)
Write to us
connect@phutari.co.in
We'll get back to you within 24 hours