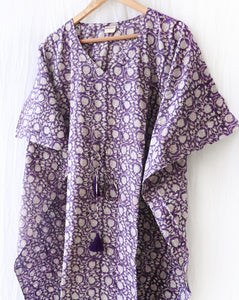 A Hand Block Printed Cotton Kaftan made for relaxing, chilling, lounging or simply for any occasion based on your style mantra.

It's an extremely comfortable garment which comes with a string. You can simply loosen or tighten the string to compliment your body type. 

Material: 100% Cotton
Craft: Hand Block Printing in pigment colours
Fit: Free Size/Comfort. The garment is designed to be loose and flowy.
Length: 41 inches
Care:
- Hand Wash Separately in cold water with mild/liquid detergents recommended or Quick Machine Wash (Delicate mode recommended).
- Do not Soak or Tumble Dry. Do not bleach. Do not wring. Dry in shade. Use a warm iron. Wash Seperately. 

Disclaimer:
- Bleeding of colour in the first few washes and rubbing off on body is expected due to the nature of the traditional hand dying process.
- The design & pattern in hand block printed products aren't always accurate, the color might be slightly out of the block or the pattern could be a bit asymmetric. Well, that's the beauty of hand block printed products.
- The product might emit a certain odour of colour which will eventually go away after a few washes.
- Every product has it's own unique print.
- Actual Colours may vary slightly from the picture. 

Shipping & Return:
- Cash on Delivery is available.
- Standard delivery within 5-7 working days 
- Exchange/Return (T&Cs apply)

Need more help with this product?
Call or WhatsApp us at +919520319444
Write to us at connect@phutari.co.in